Oleh: Dr. Nur Aainaa Syafini binti Mohd Radzi, Penganalisis Penyelidikan Kanan, Institut Masa Depan Malaysia (MASA)
25/12/2020
Apa pendapat anda mengenai pengumuman pengagihan pendapatan Amanah Saham Bumiputera (ASB) sebanyak RM4.25 seunit dan juga pengagihan ehsan RM0.75 seunit yang dibuat baru-baru ini?
Dividen rendah ASB dan Amanah Saham Nasional (ASN) pasca Covid-19 sememangnya dijangkakan lebih-lebih lagi dengan ketidakstabilan ekonomi dan politik di negara kita.
Namun, pulangan sebanyak RM7.6 bilion kepada 10.2 juta pemegang unit dengan pelaburan berjumlah 173.2 bilion unit ini tetap dinantikan ramai, yang rata-rata dapat dilihat masih meluahkan rasa syukur dengan hasil pelaburan berkenaan. Ianya sedikit sebanyak pasti dapat membantu keadaan kewangan ramai pihak dalam waktu-waktu sebegini.
Itulah antara kelebihannya apabila kita ada membuat pelaburan.
Walaubagaimanapun, hanya 44.7% dari 22.8 juta kaum bumiputera di Malaysia merupakan pemegang unit ASB. Peratusan ini adalah rendah memandangkan ASB yang hanya ditawarkan kepada kaum bumiputera merupakan antara unit amanah harga tetap yang paling menarik di Malaysia dengan tawaran pelaburan jangka panjang yang berisiko rendah. Unit amanah yang diuruskan Amanah Saham Nasional Berhad (ASNB) ini digunakan untuk pelaburan dalam pelbagai sektor, dengan keuntungannya disalurkan kembali kepada pemilik unit.
Kaum bumiputera kaum termiskin di Malaysia dan paling ramai dalam kategori B40
Walaupun merupakan kaum majoriti di Malaysia, bumiputera adalah kaum yang termiskin di negara ini. Kenyataan yang pahit untuk diterima ini telah dikeluarkan oleh Jabatan Perangkaan Malaysia, dan diolah dengan lebih terperinci di dalam dokumen Wawasan Kemakmuran Bersama 2030 (WKB 2030) sebagai salah satu keadaan yang perlu ditangani bagi membolehkan semua rakyat di Malaysia mencapai taraf hidup yang baik menjelang 2030.
Sumber: Dokumen Wawasan Kemakmuran Bersama 2030 (WKB 2030) dan Jabatan Perangkaan Malaysia
Melalui satu sesi Perbincangan Kumpulan Berfokus (PKB) yang dijalankan oleh Institut Masa Depan Malaysia (MASA), sebuah badan pemikir (think-tank) yang memperjuangkan Kemakmuran Bersama (Shared Prosperity) mengenai "Kesejahteraan Sosial rakyat Malaysia", pendapatan yang jauh lebih rendah, ditambah dengan kurangnya ilmu kewangan merupakan punca bumiputera menjadi kaum paling ramai berada dalam kategori B40.
Kaji Selidik Keupayaan dan Rangkuman Kewangan dari Sudut Permintaan 2018 (Financial Capability and Inclusion Demand Side Survey 2018, FCI 2018) oleh Bank Negara Malaysia turut mengesahkan tahap literasi kewangan rakyat Malaysia ketika ini adala membimbangkan, antaranya adalah dari segi:
Tahap pengetahuan kewangan
Simpanan dan belanjawan
Kesediaan menghadapi peristiwa yang tidak dijangka dalam kehidupan
Perancangan untuk persaraan, dan
Kesedaran tentang risiko dan pulangan pelaburan
Hasil kaji selidik Financial Behaviour and State of Financial Well-Being of Malaysian Working Adults 2018 (AFBES'18) oleh Agensi Kaunseling dan Pengurusan Kredit (AKPK) dan Assessment of Capital Markets through Malaysians Investors' Perspective 2018 (ACM 2018) oleh Suruhanjaya Sekuriti Malaysia pula mendapati bahawa pendidikan kewangan memainkan peranan yang penting dalam memperbaiki tabiat masyarakat dalam hal kewangan.
Memperkukuhkan literasi kewangan di semua peringkat usia lebih-lebih lagi pasca Covid-19
Kerajaan sebenarnya telah mengeluarkan satu Strategi Literasi Kewangan Kebangsaan (2019 – 2023) yang dilancarkan pada 2019 bagi memperkukuh pengetahuan dan literasi kewangan rakyat Malaysia dengan mensasarkan masyarakat di semua peringkat umur. Ianya diharap akan terus dilaksana dengan baik, walaupun kepimpanan negara berubah, lebih-lebih lagi dalam memastikan masyarakat di Negara ini lebih "kalis" bencana dan dapat terus bertahan dengan kesan ekonomi, apabila sesuatu musibah melanda, pada masa akan datang.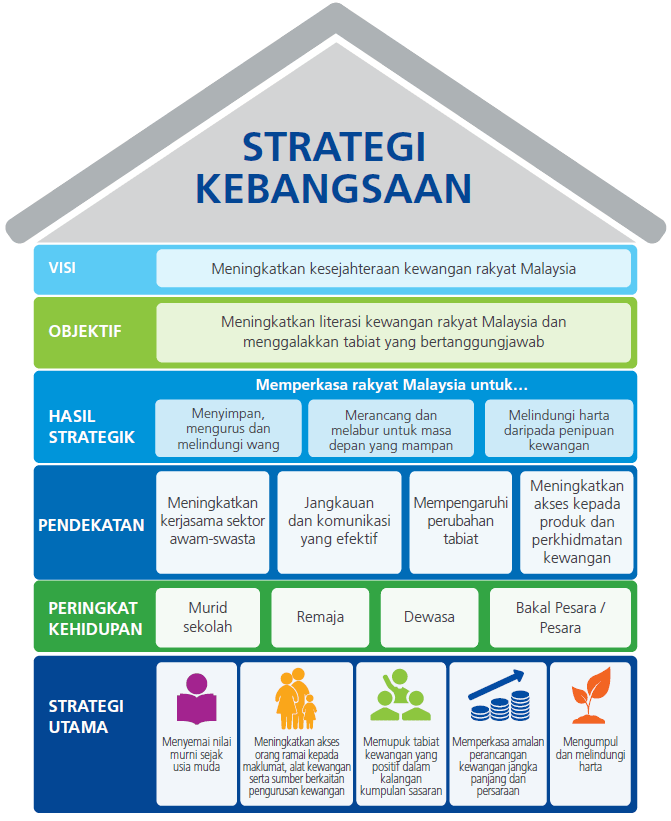 Sumber: Strategi Literasi Kewangan Kebangsaan (2019-2023) oleh Financial Education Network
Cadangan untuk menjadikan pendidikan kewangan sebagai subjek "mandatori" di sekolah juga diharapkan dapat dipertimbangkan dengan sewajarnya untuk dilaksanakan, kerana pendedahan awal sangat penting dalam membentuk tabiat kewangan yang baik, bagi kanak-kanak ini pada masa akan datang. Ianya juga penting untuk Negara kita melahirkan generasi yang mampu membangun dan menyumbang secara positif kepada negara.
Walaupun pendidikan kewangan masih bukan suatu subjek di sekolah, kemahiran ini adalah amat penting untuk dipelajari dan diamalkan oleh semua. Dengan pelbagai kemudahan yang ada, diharapkan rakyat Malaysia akan lebih cakna, dan turut berusaha mendalami ilmu ini yang boleh diperolehi dari pelbagai sumber termasuklah blog, laman web, buku-buku, dan rakan-rakan atau keluarga yang lebih arif.
Ianya hanya perlu bermula dengan kehendak diri sendiri, demi masa depan yang lebih terjamin.